Giving Back Through Product Donations
Around the world, donated Baxter product provides humanitarian assistance, medical mission support and disaster relief.
In western Kenya, a 7-year-old boy struggled to breathe. Tissue growths blocked his airway, making it almost impossible to talk or eat. When a medical team arrived and operated on the child, they successfully cleared his airway—using a Baxter anesthesia product in the process.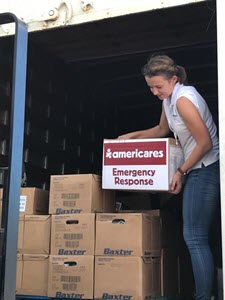 How do people around the world living in poverty, remote villages or countries devastated by natural disasters have access to quality medical products?
At Baxter, we proactively build product donations into our corporate responsibility strategy. Working alongside three trusted partners—Americares, Direct Relief and Partners in Health—we aim to manufacture products twice a year specifically for donation. This manufacture-to-donate strategy, an industry best practice, means partners can rely on having Baxter's critically needed, long-dated products available year-round – not solely during emergency situations – to help provide sustained support for underserved communities around the world.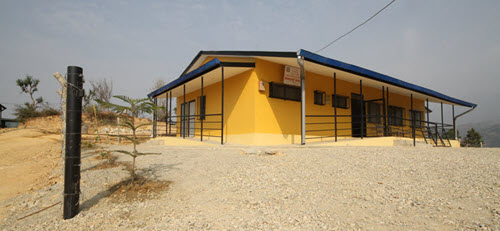 A Case Study: Partnering with Americares to help Families in Need Worldwide
Since 1987, Americares, one of the world's leading nonprofit providers of donated medicine and medical supplies, has delivered Baxter products valued at nearly $260 million to 118 countries. Our products have helped families in poverty, as well as survivors of earthquakes, hurricanes and other natural disasters by arming doctors, volunteers and health centers with the resources they need to care for patients.
Recently, in partnership with Americares, our products...
Supplied critically needed solutions to health workers in Afghanistan, Cambodia, Djibouti, and Guatemala;  
Helped a team of surgeons from Evanston, Illinois perform lifesaving surgeries in Bolivia;
And stocked a hospital in Somalia where the fight against cholera is ongoing.
and those are just a few examples from the more than 60 countries where Americares deployed Baxter product over the course of a single year.
The beauty of our partnership with Americares is that it doesn't stop with product donations. Since 1987 we've also provided approximately $2 million in financial support to the organization. These grants have helped to establish a new Americares warehouse in India, rebuild multiple health centers in Nepal, launch a nutrition program to prevent diabetes in free clinic patients in the U.S. and more — maximizing the impact of our product donations through grantmaking. By supporting more than 4,000 health centers worldwide with innovative health projects and donations of medicine, Americares improves the health of millions of people in need every year.
"Our partnership with Baxter allows us to invest in local health centers serving families struggling due to poverty or disaster," said Michael J. Nyenhuis, president and CEO of Americares. "When local health centers thrive, so do people in their communities—with better health, more opportunities and increasingly productive lives.
We're grateful to work with partners like Americares as we continue to prioritize the ways in which Baxter Gives Back.