​Innovation is at our core.  For nearly a century, we've been focused on saving and sustaining lives and elevating patient care.
Baxter was founded in 1931, however our history doesn't have one starting point. Our commitment to addressing unmet needs was built on the shoulders of healthcare pioneers whose work resulted in first-of-its-kind innovations in IVs, renal care, nutrition, respiratory, hospital beds and today's connected care.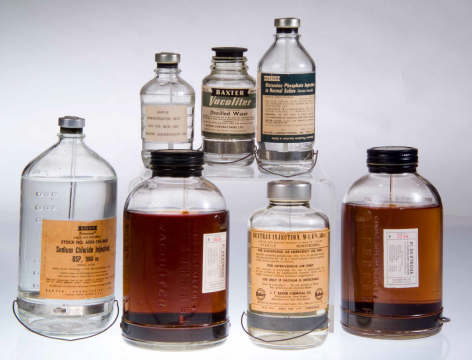 Innovative Beginnings
In the beginning, Drs. Ralph Falk and Don Baxter launched the Don Baxter Intravenous Products Corporation, the first commercial manufacturer of prepared IV solutions.
Dr. Francis Welch and William Noah Allyn developed the world's first handheld, direct illuminating ophthalmoscope and established Welch Allyn. William (Bill) A. Hillenbrand revolutionized the industry with the idea to "bring the home into the hospital" with warmer, more comfortable wooden furniture. More than a century later, Hillrom and Welch Allyn became a part of Baxter.
These innovations strengthened our storied history of driving healthcare advancements, and by the end of the 1930s, we changed our name to Baxter Laboratories, Inc. and opened our first manufacturing facility in a renovated automobile showroom in Glenview, Illinois.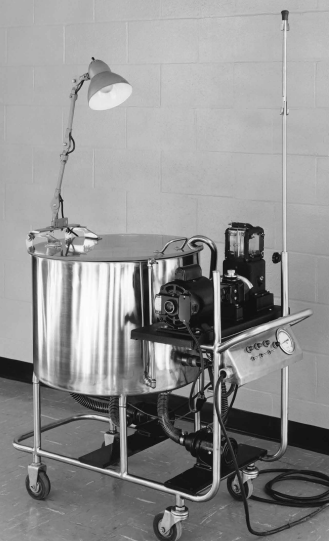 Industry Breakthroughs
Early 1930s: We introduced the TRANSFUSO-VAC container for blood collection and storage, which made blood banking practical and allowed storage for up to 21 days. 
1941: We brought to market the PLASMA-VAC container, which for the first time allowed plasma to be separated from whole blood for storage.
1948: We launched an unbreakable plastic container for blood storage.
1950: Our second U.S. manufacturing facility opened in Cleveland, Mississippi. Two years later, we became the first U.S. company to make commercially available human plasma following our acquisition of Hyland Laboratories.
1954: We went international, opening an office in Belgium. Two years later, Dutch physician Willem Kolff developed the first "artificial kidney," which was made from wood slats, orange juice cans and a cellophane membrane. Building from his work, we produced the first commercial dialysis system later that year.
1958: Wayne Quinton, along with Dr. Robert Bruce, developed the cardiac stress machine. This was the start of Quinton Instruments, a pioneer in medical devices including treadmills and cardiac diagnostic equipment, which is still being used today. 
1960: We introduced the first peritoneal dialysis (PD) solution. PD filters waste from the blood of people in renal failure through their peritoneal membrane rather than an external dialyzer. A year later, we began trading on the New York Stock Exchange.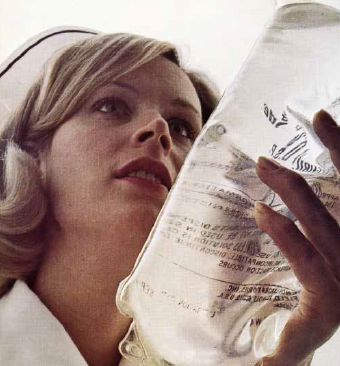 Expanding our Global Presence and Innovations
1970: We introduced Viaflex, the first flexible, plastic IV container. This medical breakthrough allowed infusions within a closed system, which reduced the chance for contamination.
1971: Our company joined the Fortune 500 list of the largest American corporations. We also opened an IV solutions manufacturing facility in North Carolina – to this day one of our largest.
Our Mini-bag plastic containers came on market in 1974, making ready-to-use premixed drugs available to hospitals. We moved to our current headquarters in Deerfield, Illinois, the next year.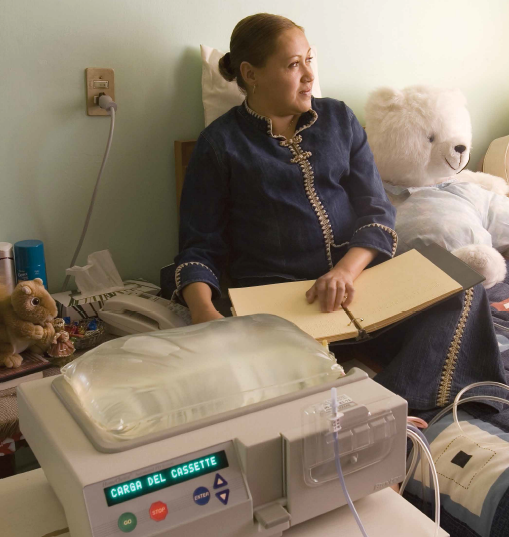 We launched several products in the 1980s, including the InfusOR pump, which allowed patients to receive IV therapy in any setting.
Early 1980s: University of Minnesota researchers—focusing on a better way to clear excess secretions from Cystic Fibrosis patients' lungs—began developing a device to replace manual chest percussion therapy. This innovation evolved into The Vest® Airway Clearance System.
1985: We acquired American Hospital Supply Corporation, a healthcare distribution company.   
1991: Our Interlink IV Access System launched, introducing the first "needleless" system for IV therapy.
1994: Homechoice, our automated peritoneal dialysis (APD) system, launched. We also opened a plant in Singapore to make peritoneal dialysis solutions for the Asian market.
1998: Our acquisition of Ohmeda's Pharmaceutical Products Division made Baxter a leader in inhaled anesthetics. That same year, we introduced the first triple-chamber flexible container for total parenteral nutrition and gained approval for our Tisseel product, the first fibrin sealant in the U.S.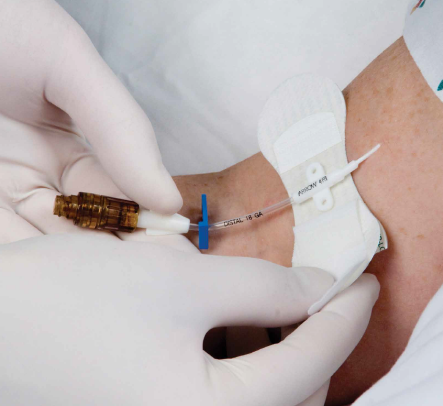 A New Millennium of Firsts
The early part of the 2000s was notable for a series of regulatory clearances for some of our core products. These included:
Extraneal, a non-glucose-based PD solution;
Advate, the first recombinant factor VIII concentrate for hemophilia made without any added human or animal proteins in the cell culture;
Flexbumin, the first albumin in a flexible, plastic container; and
Sevoflurane, an inhaled anesthetic used in surgery
2005: Trumpf Medical developed the world's first operating room lights with Light Emitting Diode (LED) technology, providing optimal and consistent lighting for surgeons and clinicians. Breathe Technologies manufactures the Life2000®Ventilation System, the first  wearable ventilator on the market that was designed to provide continuous ventilation and support improved patient mobility.
2007: We introduced V-Link, the first IV connector with an antimicrobial coating. A few years later, we received FDA clearance for Artiss, the first commercially available slow-setting fibrin sealant used to adhere skin grafts in burn patients.
2008: Voalte's unique mobile platform was designed to simplify communications and improve collaboration, workflows and outcomes across the entire healthcare system.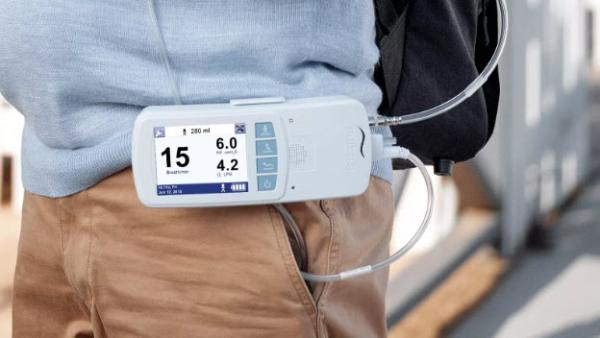 2011: Baxter Ventures launched and became a new way for us to identify and fund healthcare innovation. We also acquired Baxa Corporation to enhance our pharmacy automation offerings.
2012: We acquired Sigma, a manufacturer of smart infusion pumps, and Synovis Life Technologies, Inc., a leading microsurgery products company.
2013: We acquired GAMBRO AB, a global innovator in renal care. We also received European Union marketing approval for Hemopatch Sealing Hemostat, which helps control bleeding in a variety of surgical scenarios. Gust H. Bardy, M.D. began a journey to improve the signal quality and diagnostic accuracy of ambulatory heart rhythm monitors, as a public health mission and to honor his deceased wife, Lorene.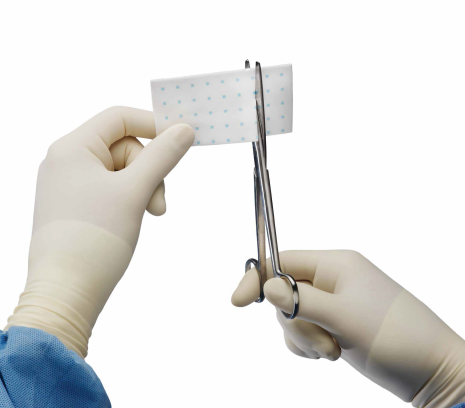 Modern Healthcare
2015: We spun off our BioScience business to focus on hospital, nutrition, renal and surgical care. We also launched Amia with Sharesource, the first APD system with user-friendly features that help guide end-stage renal disease patients through home peritoneal dialysis (PD) therapy, while keeping them remotely connected with their healthcare providers.
2016: In Europe, we launched Numeta G13E, the only triple-chamber, ready-to-use parenteral nutrition system approved for preterm infants. Also, HDx enabled by our Theranova is a new dialysis therapy we are pioneering for patients with end-stage renal disease. The Theranova dialyzer features an innovative membrane, which provides an expanded hemodialysis therapy (HDx). The Welch Allyn RetinaVue 100 Imager, with handheld technology, launches and is designed to make diabetic retinopathy screenings accessible in the primary care setting.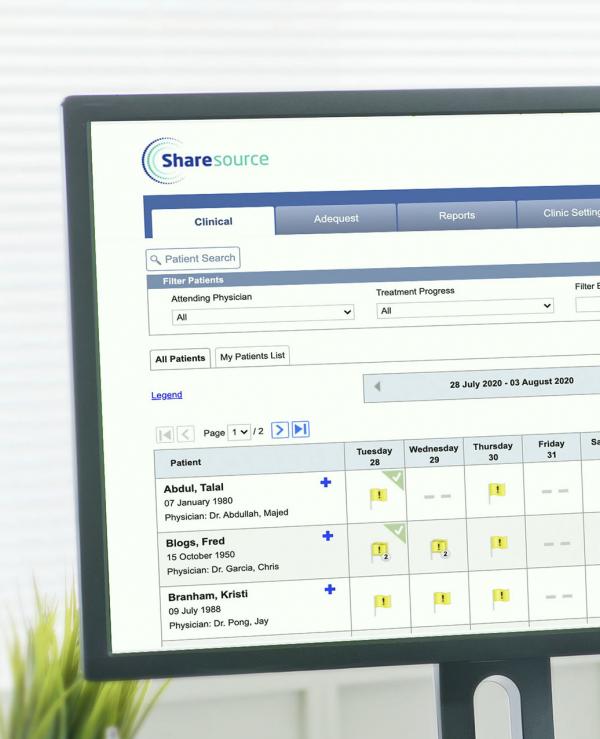 2017: New versions of our Floseal and Tisseel hemostatic agents launched. We expanded our presence in generic injectables through the acquisition of Claris Injectables Limited, a generic injectable pharmaceutical company and agreement with ScinoPharm for generic oncology drugs. We announced new research and clinical development collaborations with leading institutions including Mayo Clinic and Ramot at Tel Aviv University/Tel Aviv Sourasky Medical Center. 
2018: Our Kaguya APD system launched in Japan, reflecting local needs and demographics, and making it a viable treatment option for renal patients there. We launched PrisMax, our next-generation system for CRRT and OST; Spectrum IQ in the U.S. and Evo IQ infusion pump -- the first pump introduced outside the U.S. and Canada markets in more than a decade. We completed the acquisition of Recothrom and Preveleak from Mallinckrodt. Hillrom launches a new generation of hospital bed with the Centrella Smart+ Beds equipped with heart and respiratory rate sensors.
2019: We developed myKidneyPlan (CDK&Me), our first patient-centered education mobile application for kidney disease. We expanded our patient monitoring portfolio with the Starling Fluid Management Monitoring System through the acquisition of Cheetah Medical and forged a partnership with bioMerieux on AKI diagnostics. We launched Myxredlin, the first and only ready-to-use insulin for IV infusion, capping off the addition of seven premixed drugs since 2016.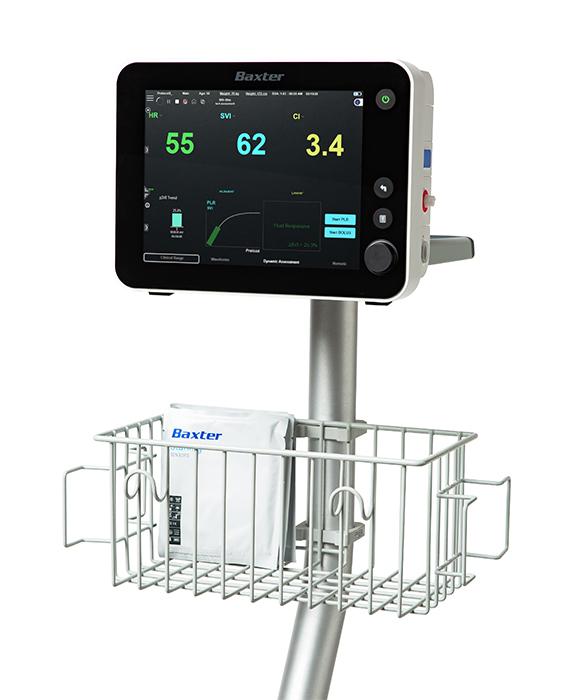 Supporting Global Healthcare System
2020: As a global leader in healthcare, we stepped up to meet the unprecedented needs in supporting the global healthcare system due to the global COVID-19 pandemic. Our life-sustaining products were critical at the onset and remained essential throughout the prolonged pandemic. Innovation remained a priority during this time. Through partnering with COSMED, we received U.S. FDA clearance of Q-NRG+, a metabolic monitoring device utilizing indirect calorimetry technology that accurately measures a patient's calorie needs to help inform prescription and administration of nutrition therapy. We also acquired Seprafilm adhesion barrier from Sanofi and partnered with MediAware, a specialist in clinical big-data analytics, with the intent to support our development of next-generation infusion pump dose error reduction software and received regulatory approval in several countries for the Evo IQ Syringe Infusion System.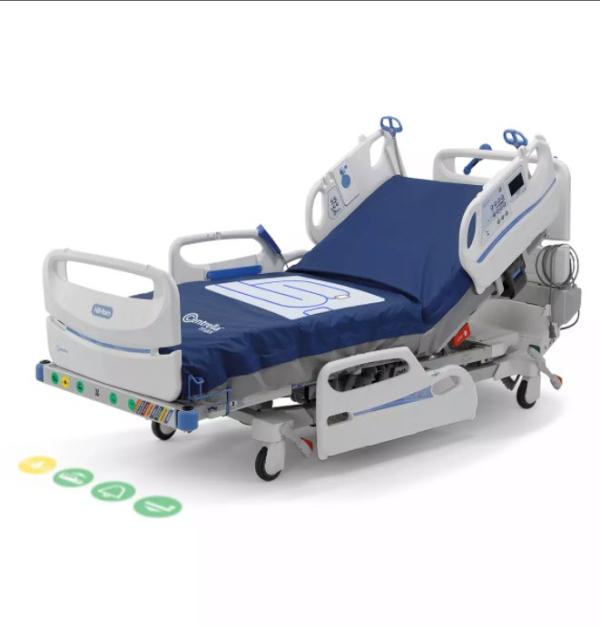 Continuing to Broaden Access to Care
2021: Amid the continuing COVID-19 pandemic, Baxter BioPharma Solutions, a premier contract manufacturing organization, entered into agreements with Novavax and Moderna to provide fill/finish sterile manufacturing services and supply packaging of COVID-19 vaccines. We also partnered with bioMérieux, a global leader in in vitro diagnostics to offer the NEPHROCLEAR™ CCL14 Test in Western Europe. The test is designed to predict persistent severe acute kidney injury and can be used to support timely clinical decision-making and care pathways. We accelerated the company's vision of transforming healthcare and advancing patient care worldwide — from the hospital to the home — with the acquisition of Hillrom. The acquisition provides more opportunities for innovation and enables broader access to care globally.