An Inside Look at How Baxter Gives Back
How Veronica's team drives efforts to make a meaningful difference worldwide–in challenging times, and all year long.
Interview with Veronica Arroyave, executive director of the Baxter International Foundation and director of global community relations
Q: What's your role at Baxter?
Veronica: I'm the executive director of the Baxter International Foundation, our company's philanthropic arm that facilitates our global giving. I'm also the director of global community relations, so I work with other people within the company who are advancing our corporate responsibility (CR) strategy. Together, we strategize the best ways for Baxter to make a difference in communities around the world through planned initiatives and disaster response. We also do behind-the-scenes work to ensure people outside of Baxter know what we're doing in the CR space – from our annual CR report to managing external recognition for our work (awards and ranking from third-parties), it's important that we make our commitments and progress visible to all of Baxter's stakeholders.
Q: Tell us about how Baxter gives back. 
Veronica: Baxter and the Baxter International Foundation do so much from a global philanthropic perspective to help improve health outcomes. Our giving is steady and longstanding, but it's during challenging times like today – navigating the serious global outbreak of COVID-19 – that I'm most proud of our ability to contribute to others working on the frontlines of a health crisis. Generally, our work can be categorized into three buckets: community engagement, our social impact (or grantmaking) work and product donations – all of which support Baxter's mission to save and sustain lives.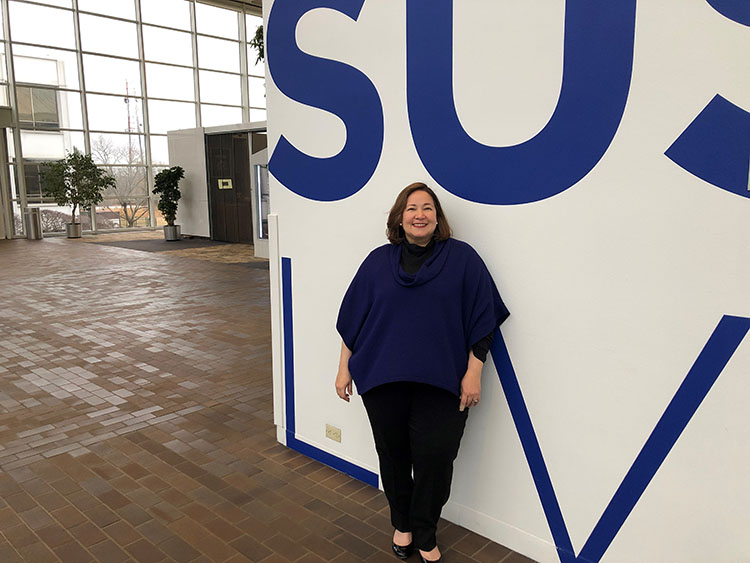 Our community engagement efforts are mostly centered around empowering and amplifying how our employees give back to the communities where they live and work. We have programs that match employee charitable donations and encourage volunteerism, and we create opportunities (for example, onsite blood drives and Habitat for Humanity events) to get people involved in giving back.
From the Foundation, our grants and charitable donations focus on building strategic programs and partnerships that will help increase access to care, foster tomorrow's innovation and promote community wellness. Last year, for example, we launched a three-year signature partnership with Operation Smile to advance safe surgery for children in India. But we also provide financial aid during times of great need–most recently to support multiple groups addressing the needs of patients, health workers and communities at local, national and global levels during the Australia bushfires, Puerto Rico earthquakes and the current COVID-19 pandemic.
And fin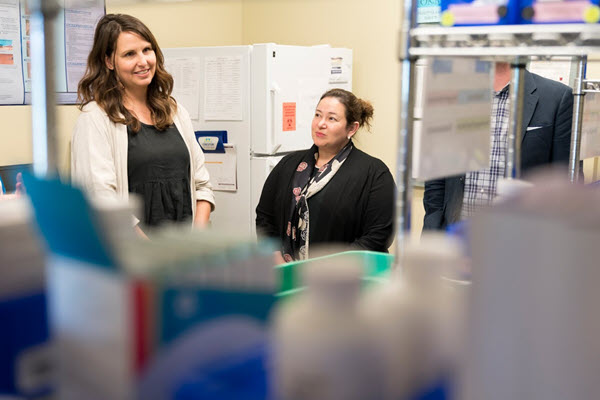 ally, product donations – the piece of our giving strategy that is nearest and dearest to my heart. Around the world, there are so many people and places who don't have access to the kinds of quality medical products Baxter creates. Through our manufacture-to-donate program, we provide trusted nonprofit partners with the products they need to help underserved communities, including through medical missions and disaster relief. 
Q: You mentioned product donations are near and dear to your heart. Why's that? 
Veronica:  From my experience on the ground in countries across Africa and Latin America, I know that healthcare is simply rare in severely rural communities, and in some cases nonexistent. There aren't many doctors traveling six hours up a mountain to provide routine care – which is why community health workers rely on donated products and basic medical supplies. These donations make an immediate difference. They serve as a bridge for hospitals and health centers in underserved communities, and similarly fill gaps during times of disaster or supply constraints, like the current situation we're facing around the world. Thankfully, it's best practice for companies to proactively plan for product donations. It's  important, and pretty amazing, to be able to provide this kind of support.  
Q: What motivates you, where do you find inspiration to carry out your work?
Veronica: I'm motivated by the eagerness of our employees to get involved. Giving back is everyone's responsibility, and people at Baxter are excited about wanting to make a difference in their communities. It's my job to help channel, encourage and amplify those efforts because together – as one Baxter team – we'll have the biggest impact.
 
For More Information
We're committed to saving and sustaining lives and creating stronger communities.