Welch Allyn ELI 380 Resting ECG
The Welch Allyn ELI 380 Resting ECG is available in select countries globally, including the United States.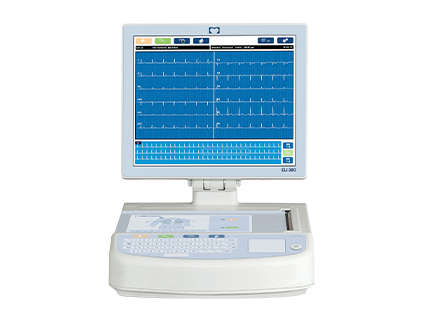 The Welch Allyn ELI 380 Resting Electrocardiograph (ECG) is designed with ERGO swivel, a touchscreen display, and untethered workflow for ease of use by the bedside. It is designed to help simplify workflows with 6-step ECG acquisition, a streamlined barcode workflow, and connectivity that delivers data directly to the EMR.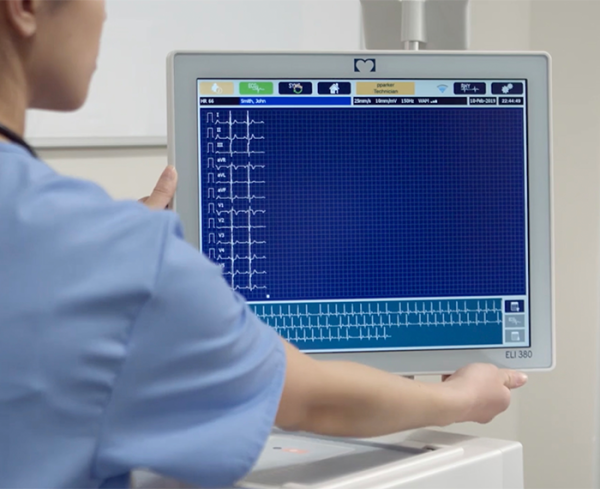 Designed for Healthcare Professionals' Needs
The ELI 380 ERGO screen features a 180° swivel and 120° tilt capability so exams can be performed right by the patient's side. The capacitive touchscreen helps make navigation easy from any angle and eliminates the need to clean a traditional keyboard, promoting a sanitary environment for patients and staff. The ERGO screen is built to last with a calibration-free, chemically strengthened glass surface.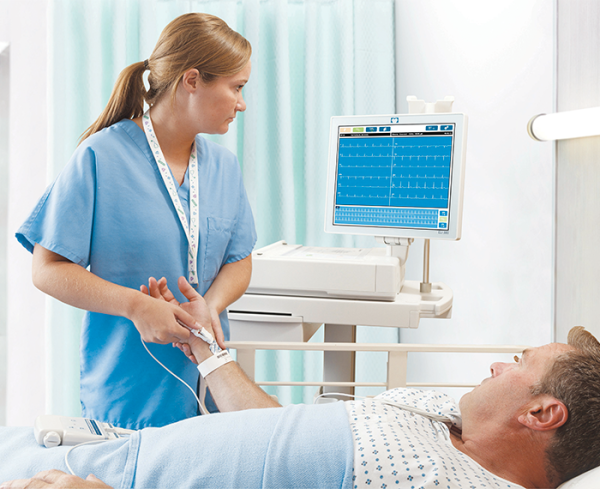 A Simple, Streamlined Workflow
The ELI 380 Resting ECG offers a streamlined approach to capturing accurate ECGs in a few simple, secure steps.
Experience streamlined ECG acquisition with ELI 380 through our dynamic screen mode tool.
Simple
A streamlined barcode workflow helps eliminate manual data entry steps, and the Wireless Acquisition Module provides untethered ECG capture to make exams easier
Secure
Data encryption and additional security features authorized by the U.S. Department of Defense helps protects patient information and your hospital network
Connected
Helps securely send patient information to the data management system or EMR of your choice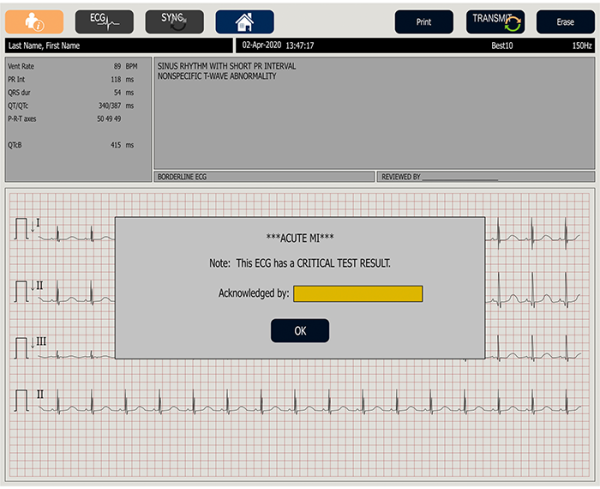 Accurate Interpretation When it Matters Most
According to a recent study, the proprietary VERITAS Interpretation Algorithm recognizes and alerts for Critical ECGs associated with Acute Coronary Syndrome (ACS).1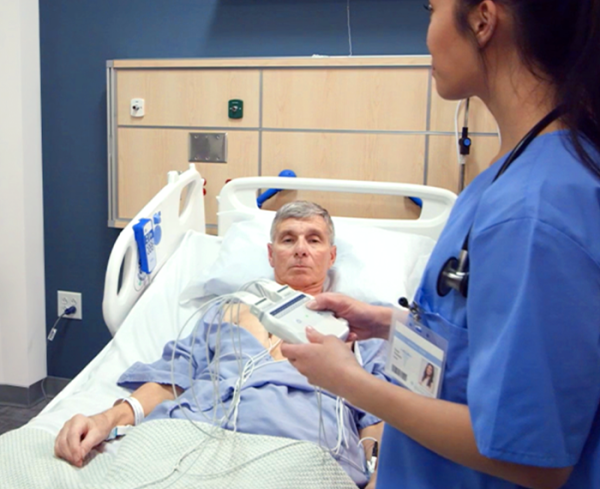 Ease and Confidence in Isolation
The ELI 380 Wireless Acquisition Module (WAM) delivers an untethered workflow that facilitates ECGs on patients in isolation with ease, while the impact resistant glass keyboard allows for a more efficient, more effective clean to help reduce bacteria and risk of cross-contamination.
Rx Only. For safe and proper use of products mentioned herein, please see appropriate Operators Manual or Instructions for Use.