The Power of Teamwork to Support Patient Care
Teams bridged the pandemic and borders to bring an innovative ICU bed to life.
The Hillrom Progressa+ ICU bed represents a remarkable achievement not only in innovation, but also in collaboration. Developed during the Covid-19 lockdown, teams located in the U.S. and Mexico pooled their collective expertise remotely to meet the needs of clinicians and patients in line with our mission to Save and Sustain Lives. 
Overcoming Obstacles
The journey of Progressa+ was far from conventional. A few months before the Covid-19 pandemic began, our teams defined a vision to develop a best-in-class ICU surface and frame that enhances patient comfort, clinician efficiency and ergonomics, explained Philip Kuhn, senior director of Research & Development (R&D). As soon as the lockdown started, teams across time zones met over regular video calls, facing the unprecedented challenge of not being able to meet in person or go to the labs and other spaces that facilitate new product development. "We spent nearly 18 months apart – that really changes how you do things," said lead mechanical engineer Chris Hildenbrand. "During that time, we didn't have access to the model shop for hands-on prototype evaluation. We didn't have manufacturing plant access for developmental builds. So, we found ways to collaborate virtually, and the team adapted very well."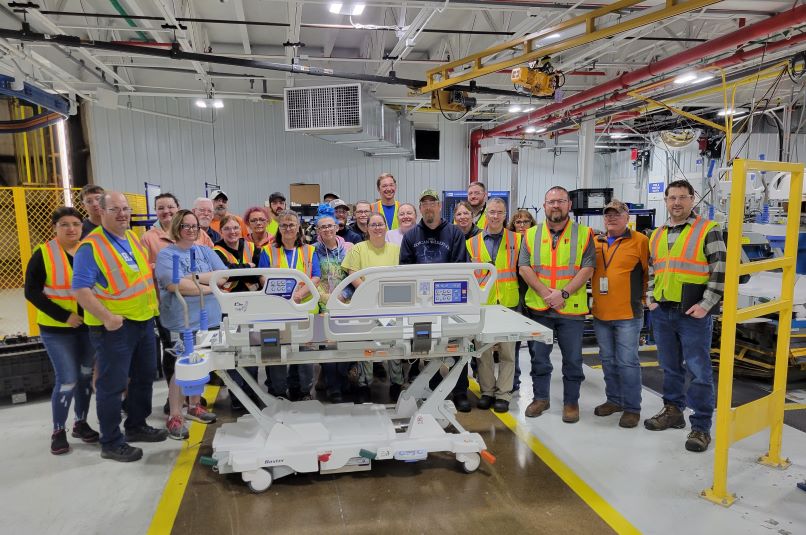 It takes the entire organization to produce a new product and make it successful.

Scott Corbin, senior manager Research & Development Project Management
Despite barriers, team members like Scott Corbin, senior manager R&D Project Management and 30-year Baxter employee (formerly Hillrom), adapted their approach to keep the project moving. Project update meetings accommodated teams from manufacturing sites in Batesville, Indiana and Monterrey, Mexico. R&D, Quality, Operations and leadership teams at both locations had to coordinate activities to ensure that the project progressed on schedule, with the right quality, details and cost – "All the things that keep a project manager up at night," said Corbin.
The saying, "It takes a village to raise a child," became a guiding principle. "It takes the entire organization to produce a new product and make it successful," Corbin said.
An Evolved Vision
Building on years of experience with the existing Progressa bed, the team recognized the importance of incorporating clinician feedback from around the world to develop a differentiated product. Caregivers, radiologists, physical therapists, physicians and other clinical leaders offered the team valuable insights throughout the development process by participating in virtual advisory boards, virtual product demos and field visits. "From the beginning we focused on collecting global clinician input early and often to shape design decisions that prioritized patient safety and caregiver efficiency to drive positive outcomes for our customers," said Rachel Williamson, director of Marketing for Med-Surg and ICU Beds.
Global customer feedback led to incorporating advanced surface technology that is intended to help assist in the prevention and treatment of pressure injuries1, explained Brian Hoffman, director of R&D. "It's very exciting to think that our design has the ability to influence and help improve the standard of care for patients," said Hoffman.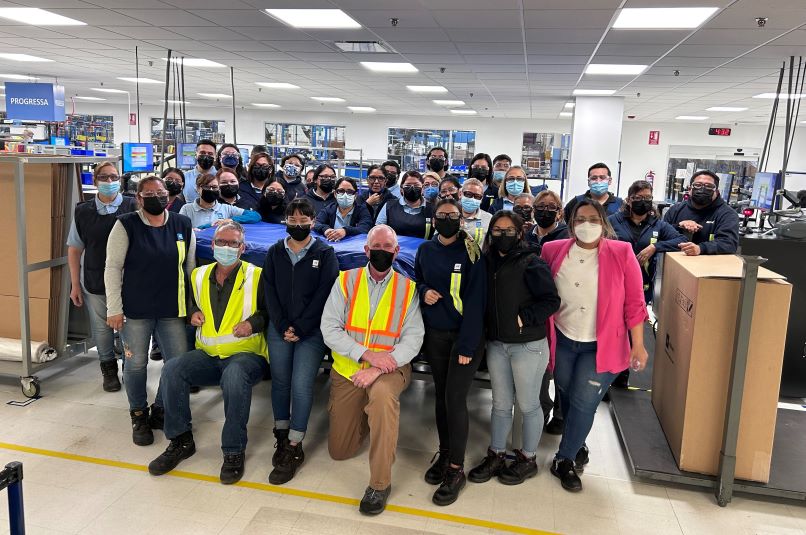 "We took a well proven product in the field, and we worked together to address the issues customers asked us to improve," said Katy Smith, senior principal engineer, R&D for surfaces, about the Progressa+ frame and surface enhancements. "We had a lot of collaboration between the frame and surface engineering teams to make the Progressa and Progressa+ lines compatible in order to provide flexibility to customers," she said.
Collaboration a Key to Success 
The Progressa+ launch in June 2023 marked the end of a three-plus year feat, and the beginning of a new phase of teamwork and shared knowledge. "The first customers were very excited to see the beds roll off the trucks," said Kuhn. Engineering, marketing, service and sales representatives have been going to customer sites to provide guidance and support while continuing to collect learnings. Feedback so far has been "overwhelmingly positive," Williamson shared. "They love the bed and especially the newly designed support surface." The team is proud to see their hard work finally come to fruition, said Kuhn. "It's a game changer."