A Dose of Reassurance for a NICU Dad
In March 2018, James and his wife Monica welcomed their son Ethan into the world; little did they know he would soon require life-saving therapies.
"He was rather opinionated, yet completely beautiful," said James, as he thought back on the day his new family happily settled into their hospital room to recover and get acquainted after Ethan's cesarean birth.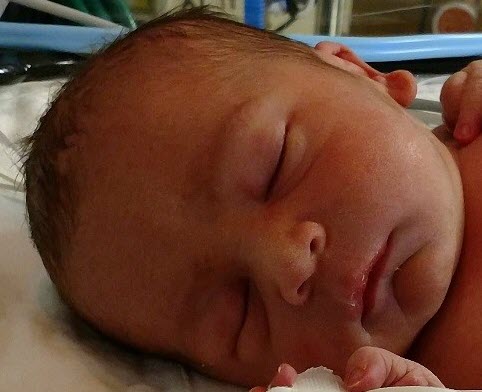 Blood loss during surgery prompted the hospital nursing staff to monitor Monica's blood pressure and iron count, and conduct various checks on the baby; one of which led a nurse to check Ethan's blood sugar. His glucose count was low – alarmingly low and well below the threshold for intervention. If left untreated, low blood sugar can lead to brain injury and developmental disabilities in newborns.
Ethan's nurses took immediate action.
They administered a glucose paste to be absorbed through the inside of Ethan's cheeks, but his glucose continued to plummet, and he developed a tremor. Ethan was brought to the neonatal intensive care unit (NICU) and nurses started an IV line to administer a glucose drip to stabilize his blood sugar. During this high-stress and emotional situation, James looked up and saw that the glucose bag read "Baxter" at the bottom, and was connected to a Baxter Sigma Spectrum infusion pump.
Seeing Baxter playing a role in his son's treatment brought James immediate confidence. That's because James is a quality engineer at Baxter, where he works in the design assurance department for new product development.
Baxter products helped sustain the life of my son.

James, Baxter quality engineer and new dad, reflecting on his family's recent experience in the NICU
"Seeing Baxter products help sustain the life of my son brought a whole new perspective to my work every day," said James. "Our mission to save and sustain lives has taken on a special new realism and urgency, and I could not be more proud to be part of this team."
Not long after treatment was started, Ethan's condition turned around. 
The newborn's glucose levels stabilized and began climbing; each time his levels exceeded the normal range, his nurses reduced the glucose drip. Over the next five days, his tiny organs began functioning properly until no supplemental glucose was needed.
Today, the Clausen family is preparing to celebrate their happy and healthy son's first birthday.