Technology and Service Support Chronic Disease Management at Home
Conditions such as hypertension, respiratory illnesses and cardiac issues can be monitored effectively with innovative tools and connected devices, helping support quality of life and efficient care.
With the rapid rise in chronic diseases in adults – particularly among those in the U.S. – care is becoming increasingly long-term. This trend, along with changing care models and labor shortages, is pushing more care into the home.
Connected care meets patients where they are. Advances in technology are making care more convenient and collaborative to support patient safety and well-being. Patients with hypertension, for example, can benefit from ambulatory blood pressure monitoring. A series of blood pressure readings taken at home can enable clinicians to more accurately detect and address potential issues. Digital blood pressure devices are easy to use and can offer reliable and fast results.
"Hypertension is a chronic disease, so it has to be consistently managed," said Julie Jakubowski, MD, FACP, head of Medical Affairs for Front Line Care at Baxter. "It's best for patients to engage in their own care in partnership with their clinicians. They can check and record their blood pressure at home and share results with their care team to provide valuable information about whether the treatment plan is working." Regular telehealth visits can help patients keep their care on track without the need for in-person visits, saving time and effort.
For patients with respiratory diseases, accuracy matters for airway clearance sessions. Many of Baxter's devices automatically transmit information to mobile device apps, which removes the burden on patients to record and report their information. For patients with suspected arrythmia, Baxter's wearable wireless cardiac monitoring devices continuously record heartbeats to aid in diagnosis. Patients can apply the monitor at home and return it to their clinician at the end of their monitoring period for analysis.
I tell patients to think small and focus on what they would like to do for themselves at home and not rely on other people. Trust your clinician and your equipment, and don't give up.

Anne Snyder, respiratory therapist and lead specialist, R&D Clinical
Tips for Success
Starting a new therapy can be stressful. Lead Speciali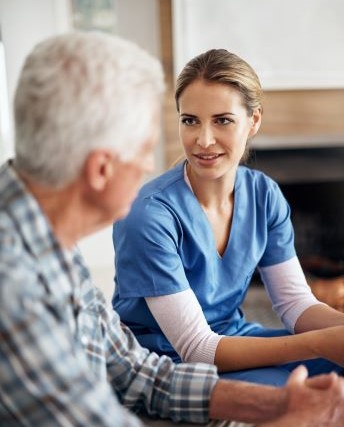 st, R&D Clinical, and respiratory therapist Anne Snyder offers advice to help patients get started: "I tell patients to think small and focus on what they would like to do for themselves at home and not rely on other people. Trust your clinician and your equipment, and don't give up," Snyder said. She recalled a patient who struggled to walk down the hallway and was nervous to try her ventilator. Once she did, she was amazed at her ability to breathe easier while walking. "Getting dressed, answering the door and making a cup of coffee … these are small but important tasks that can lead to more independence once they get the courage to try with the assistance of therapy devices," Snyder explained.  
Educating patients about the devices they will be using and how their clinicians will receive and use data from the device can also help patients feel more at ease. At Baxter, the customer support team called Care Connex works with patients who use non-invasive respiratory therapy, helping them feel supported, answering questions and offering these other services that can lead to successful treatment:
Provide in-home assessments, device training and reporting with our network of 600+ licensed clinicians.
Work with insurance companies to verify coverage.
Schedule regular in-home visits by respiratory therapists.
Call the patient between visits to check if equipment is working properly and the patient is satisfied.
Offer 24/7 multilingual support.
Provide continuing education to healthcare professionals.
"It's important to be available to the patient at every step, whether they are new to the process, or they've been managing a condition for many years," said Joann Arny, Baxter's director of Provider and Customer Relations for Respiratory.
As home health products and therapies become more common, patients can gain confidence in using them. Research indicates a strong satisfaction with the following digital health solutions among consumers who use them, according to the Consumer Technology Association1:
Blood pressure monitors: 85%
Pulse oximeters: 84%
Insulin pumps: 83%
Glucose/diabetes monitors: 82%
Fall monitors: 77%
Cardiac monitoring devices: 76%
Continuous glucose monitors: 76%
Respiratory monitors: 74%
Pacemaker or heart rate monitors: 72%
Innovative tools and medical devices are game changers in the management of chronic diseases. Remote monitoring, telemedicine, personalized treatment approaches and actionable insights from device data are driving this transformation from hospital to home, enabling patients to take more control of their health and saving valuable time for clinicians.