New Jersey Community Hospital First to See the Benefits of the New SPECTRUM IQ Infusion System
Baxter's latest innovation in medication delivery showcases our commitment to advancing healthcare for patients and providers
Staff at Trinitas Regional Medical Center (TRMC) in Elizabeth, New Jersey pride themselves on offering "state-of-the-art medicine backed by compassion and competence." Recently, the 554-bed facility took its latest step as a leader in adopting new medical technology when it became the first hospital in North America to implement Baxter's Spectrum IQ Infusion System in May 2018.  The new infusion pump platform has exclusive features to help ensure that the correct medications and fluids are safely and efficiently delivered to patients.
Spectrum infusion pump technologies have always elevated the standards of patient care, allowing users to achieve industry-leading drug compliance and program with ease of use. The new Spectrum IQ infusion system revolutionizes the traditional idea of an integrated smart pump as it's the first system to offer an on-screen barcode and advance auto-programming workflows, simplifying the integrated process and helping providers offer a greater level of safety and achieve immediate and measurable impact.
Protect More Infusions with a Comprehensive Approach to Safety
TRMC "prioritizes quality and safety for their patients" and chose to upgrade to the Spectrum IQ because of its ability to make high drug library compliance and protection for high-risk infusions consistently achievable. 
"Having a high drug library compliance is extremely important to us," said Carmen Mercado, Clinical Nurse Specialist, Intensive Care Unit, TRMC.  The Spectrum IQ system has helped TRMC to achieve 98.8 percent drug library compliance within one month of implementation.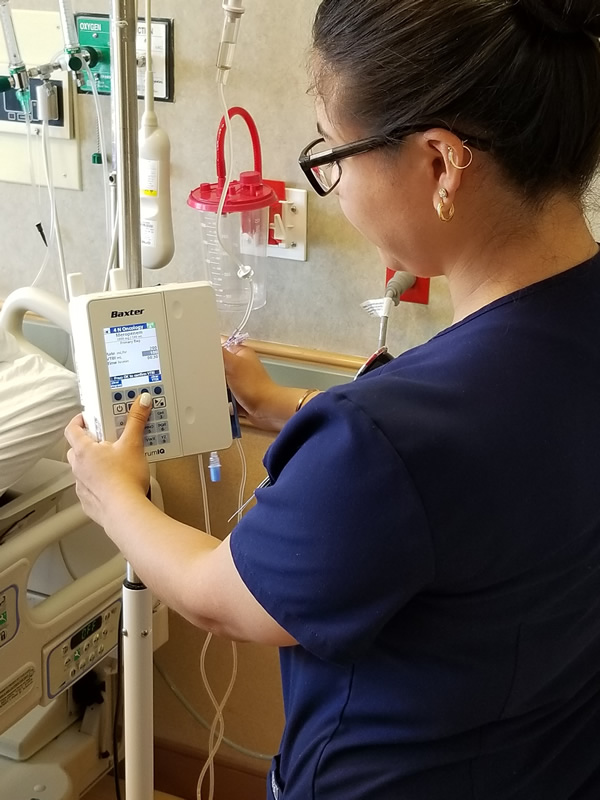 In addition, the Spectrum IQ system is the only infusion pump that has a dose/rate change (titration) added safety feature within the safety software to provide additional protection on high-risk infusions. The TRMC staff praised the titration error prevention feature of the Spectrum IQ system.  "We appreciate that we have this extra layer of protection for our patients and that it is integrated into our infusion pumps and helps us to prevent medication errors," said Mary McTigue, Vice President, Patient Care Services and Chief Nursing Officer.
Implementing the SPECTRUM IQ System
"The implementation couldn't have been any smoother," added Carmen, who served as a point-person on the integration project. "Even in the preparation, we discussed with Baxter the flow and process for how we were going to get this done, and you know, they weren't just focused on the installation and gone. Baxter was here for any questions and had a post-implementation plan for any questions we had."
TRMC accomplished the conversion to the new Spectrum IQ system within one day. The Spectrum IQ system is a recognizable design for current Spectrum pump users and has the same user-friendly interface and safety software which allows for a conversion to the new platform to be completed in a fraction of the time it would take to move to a completely new infusion pump system. 
"Standardization really helps the nurses a lot," added Neha Nayar, RN. "When the new Spectrum IQ pumps came in, they were very similar to the previous ones, so there was much less of a learning curve which may help to make it safer for the patient at the bedside."
SPECTRUM IQ System– TRMC's Pump Platform of the Future
TRMC will continue to focus on advancing their technology, including EMR integration, in the future for further patient safety and workflow efficiencies.  As Tim Clyne, Nurse Manager Oncology, stated, "TRMC is looking forward to auto-documentation with the onscreen barcode.  It will be a game changer."
As Baxter continues on our 85-year journey to revolutionize healthcare and carry out our mission to save and sustain lives, we're continuing to work to bring the next generation of innovations and products—such as the Spectrum IQ infusion system—to market. We're committed to bringing smarter and more personalized care to all, and seeing our latest innovation in action at TRMC is just one example as to how Baxter is helping providers ensure that treatments are delivered to patients in an efficient and safe manner.
Rx Only.  For the safe and proper use of this device, refer to the appropriate operator's manuals.
For more information about the Spectrum IQ Infusion System, visit: http://www.spectrumIQ.com
Baxter and Spectrum IQ are trademarks of Baxter International Inc.
Any other trademarks, product brands or images appearing herein are the property of their respective owners.
USMP/361/18-0086    9/18