Inspiring the Next Generation of Innovators
Impacting the lives of more than 1,000 students at Chicago charter school Muchin College Prep, Baxter's Marc Minkus, senior director of program management, provided students with a first-hand account of how a STEM education opens the door to a rewarding career that can impact the lives of people around the world.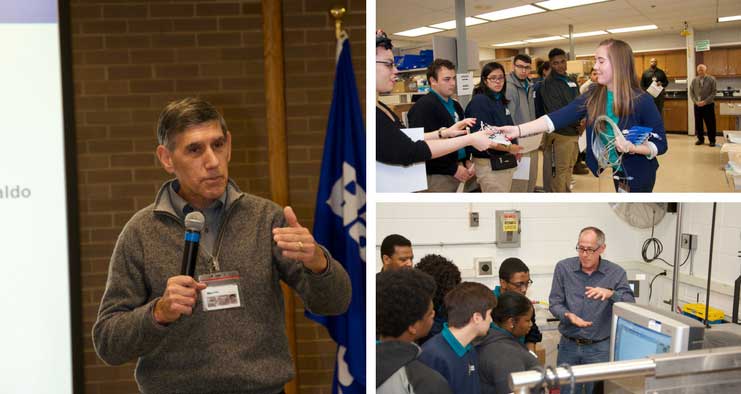 At Baxter, Marc is part of the Global Science & Technology organization leading a team in developing novel technologies in support of our mission to save and sustain lives. With more than three decades of healthcare R&D experience, Marc shared with students that a STEM education can lead to a wide range of career opportunities. This can include helping bring innovative new products to the market, like AMIA with SHARESOURCE, which is Baxter's latest advancement to enable renal patients to perform home peritoneal dialysis (PD) therapy.
"We're beginning to see an increased interest in science and engineering among students as they learn there's more to a career in STEM than just the role of a doctor, but also an engineer, pharmacist or technician," said Kris Elbein, dean of instruction at Muchin College Prep. "Baxter visits are not only a valuable learning opportunity, but also a refreshing change from the standard curriculum that helps reinvigorate students and piques their interest."
Baxter employees like Marc are committed to giving back to the local community through impactful initiatives, such as helping tomorrow's research scientists, engineers and healthcare professionals, and take great pride in helping to create diverse learning experiences. This includes taking students out of the classroom and into the R&D lab to show them the real-world application of a science-based education.
"Ensuring we continue to have a diverse talent pipeline in research and development has always been a passion of mine," said Marc, "but helping Baxter reach its goal of getting students to envision themselves in a STEM career because they have the capability and courage is what matters most."
Dollars for Doers
Baxter values every hour of time employees volunteer giving back to their community. Through the Baxter International Foundation Dollars for Doers program, U.S. employees like Marc Minkus can convert time volunteered into grants for their favorite organizations. Ten hours of giving back can equal $100 for a favorite charity.