Fostering the Next Generation of Parenteral Nutrition Clinical Leaders
International Parenteral Nutrition Early Career Professional development grant recipient Lindsey Russell on the value of multi-disciplinary exposure
The nutritional needs of critically ill patients are vital, yet often overlooked by traditional medical curriculum. Parenteral nutrition is a life-saving therapy that is used for many types of patients, and Baxter supports efforts to increase educational opportunities for the next generation of physicians, especially in this area.
"Physicians who understand the science and practice of nutrition support are able to deliver more effective specialized therapy," explains Mary Hise Brown, Ph.D., RDN, CNSC, FASPEN, and senior director of medical affairs at Baxter. "This added knowledge and skill set may impact hospital clinical outcomes, rehabilitation measures and quality of life for their patients."
Baxter is proud to partner with the American Society for Parenteral and Enteral Nutrition (ASPEN) to award five International Parenteral Nutrition Early Career Professional (PNECP) development grants. These grants aim to provide physicians outside the U.S. access to clinical nutrition information and education.
"Exposure to thought leadership and cutting-edge developments in clinical nutrition are critical," explained Theodoric Wong, MBBS, FRACP, and chairperson of ASPEN's International Clinical Nutrition Section (ICNS). "The connections, educational resources and network afforded by programs like PNECP help foster the next generation of Parenteral Nutrition clinical leaders."
Award recipient Lindsey Russell, B.S. (Hons), M.S., M.D., FRCPC, of Canada shares a few thoughts on what receiving this grant means to her.
Q: Why did you apply to receive one of the Early Career Professional Development grants?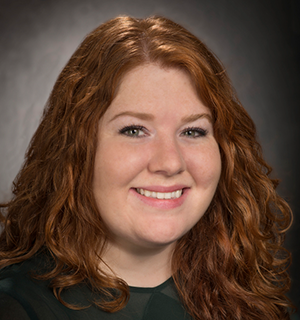 Lindsey: This grant is an opportunity to gain greater exposure and knowledge in the field of clinical nutrition and research. One of my mentors in the field of clinical nutrition encouraged me to apply. She was aware of the benefits of attending the ASPEN annual conference over her career.
What are you most excited about with regards to attending the ASPEN conference?
Lindsey: I am excited to hear the latest up and coming research in clinical nutrition. I enjoy listening to research studies and projects because they build upon my own research. The ASPEN conference highlights the multidisciplinary aspects of clinical nutrition to include physicians, nurse practitioners, pharmacists, dieticians, industry experts, and I am excited to hear different perspectives.
Q: Why are professional development opportunities like this important to you?
Lindsey: These opportunities will help me gain knowledge of where the field of clinical nutrition is currently with research and where the field is going in future endeavors. This professional development opportunity also opens doors for networking with leading experts in the field which will help create further opportunities in education and research. 
The full list of Baxter and ASPEN's 2021 PNECP development grants are below.
Melissa Tropico Sy, R.M.T., M.D., DPPS, DPBCN, Philippines
Frances Gail M. Turalba, M.D., FPCP, DPBC, Philippines
Hashan Amarathunga, MBBS, M.S., Clinical Nutritionist, Sri Lanka
Lindsey Russell, B.S. (Hons), M.S., M.D., FRCPC, Canada
Yahiel Osorio-Alamillo, M.D., México
For more information about the ASPEN21 PNECP grants, visit: https://www.nutritioncare.org/ProfessionalDevelopmentGrants/