Responding to Global Water Challenges
How several of our efforts are making an impact around the world
 
Water is an invaluable resource, yet access to clean water continues to be an issue for certain communities worldwide. Baxter works with nonprofit organizations to support community water projects and implements conservation and efficiency projects at our manufacturing facilities.
Supporting Access to Clean Water 
Access to clean water is a basic human right. Unfortunately, this vital natural resource is limited in many areas of the world. Baxter and the Baxter International Foundation are actively investing in the following projects to support community water projects.
La Guajira, Colombia:  A project with UNICEF USA is focused on improving access to safe water in La Guajira, Colombia, one of the country's most water-challenged regions. The three-year initiative is helping provide access to safe drinking water through rehabilitating water systems, installing solar panels, monitoring water quality, and distributing water filters and hygiene kits to families. 
Ahmedabad, India: Project Srujal provides clean water to 11 villages near Baxter's manufacturing site in Ahmedabad, India. The initiative established water-related infrastructure, such as elevated water tanks, bore wells, pipeline networks, roof rainwater harvesting structures and a cattle trough. The project also strengthened the villages' ability to sustainably manage water resources, provided education about water safety and security, and built capacity to manage resources.
Valle del Cauca, Colombia:  We started the "Agua para Todos (Water for all)" project that seeks to protect and restore the ecosystems of the Arroyohondo and Cali River Basins. Since the project started in late 2020, we have established  conservation agreements to protect 213.5 hectares (target: 300 ha) of water basins and we are actively restoring 20.7 hectares (target: 50 ha) with community participation. 
Aguacatán, Guatemala: A program with Fundación Solar, a nonprofit in Guatemala, is working alongside several partners to reduce natural resource use, provide access to clean drinking water, improve community health and empower women in Aguacatán, Huehuetenango. Fundación Solar supported 1,500 families in total through the program by providing water filters and stoves. Additionally, the program established a solar-powered rainwater capture system at a local school that collected and treated water which was then used for handwashing and cleaning.
"Every water program Baxter does touches lives in a different way," said Monica Torres, senior EHS&S technical manager, Baxter, who visited the project in Guatemala. "As I spoke with the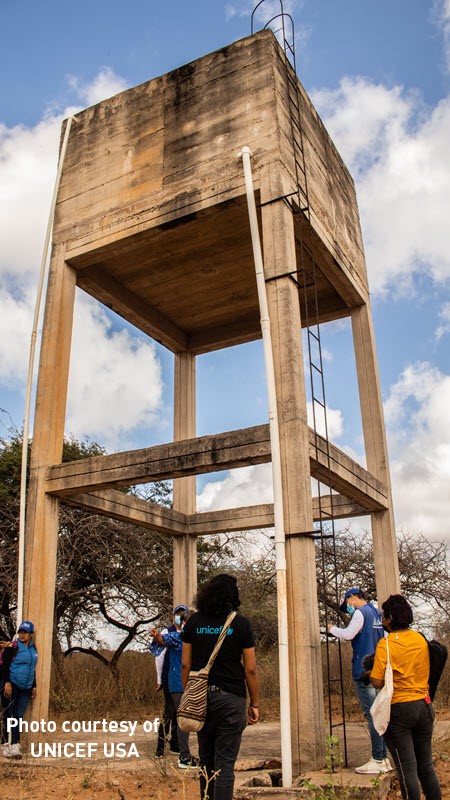 women who helped organize this initiative, I was impressed by their leadership and commitment to help their neighbors. They traveled to communities – some of which are only accessible on foot – to speak with people to hear first-hand about their water challenges and develop a plan that prioritized needs for the biggest impact."
Manufacturing Conservation and Efficiency Projects
In addition to supporting community water programs, Baxter also implements conservation and efficiency projects at our manufacturing facilities.
Some recent actions have included:
Tianjin, China: We implemented a project to recover condensed steam from our boiler, which was then reused to decrease overall water consumption at the site. This reduced total site water consumption by 22% per unit of production. 
Grosotto and Sondalo, Italy: We implemented several changes to improve efficiency, including optimizing of HVAC systems and cleaning and sanitation processes, changes in sterilization cooling, and installation of a new glass bottle washing machine. As a result, we have reduced water consumption by more than 150,000 cubic meters per year, compared with 2020.
Focused on the Future 
We are committed to building on this progress. As part of our 2030 Corporate Responsibility Commitment, strategic water management plans at manufacturing locations is one of our goals. To prioritize our efforts and optimize our impact, we are seeking input from a cross-functional team at Baxter on our roadmap to 2030. In the meantime, we are continuing to work with our local partners on community water projects and upgrades to our manufacturing infrastructure to ensure our operations are managing water efficiently and effectively. 
"Baxter has always placed high importance on the use of water across our operations," said Torres. "I am personally excited about our 2030 goal around water and our focus on protecting such a precious resource."
Protecting Our Planet
Learn more about our overall focus on operational excellence and environmental stewardship across our value chain.
Corporate Responsibility
Learn more about our sustainability work and associated corporate responsibility goals.