We prioritize operational excellence and environmental stewardship across our value chain because we're dedicated to playing an active role in helping preserve the environment and its natural resources for generations to come. 
Our 2030 Environmental Goals
Carbon Neutrality and Greenhouse Gas Emissions
Achieve carbon neutrality for our direct operations by 2040 and reduce absolute Scope 1 and 2 greenhouse gas emissions 25% by 2030, aligned with a well-below 2o Celsius science-based target. (Baseline year: 2020)
Implement Strategic Water Management Plans
Implement strategic water management plans at prioritized manufacturing locations.*
*Identify prioritized locations using a risk-based approach by the end of 2023.
Advance Sustainable Procurement
Integrate Baxter's sustainable procurement strategy across 90% of our supplier spend.*
*As measured by supplier commitment to Baxter's Ethics & Compliance Standards and Baxter's completion of corporate responsibility audits within our supply base. 
Implement Strategic Materials and Waste Management Plans
Implement prioritized waste mitigation opportunities* in Baxter's integrated supply chain, from procurement to distribution.
*Identify prioritized waste generation sources by the end of 2024.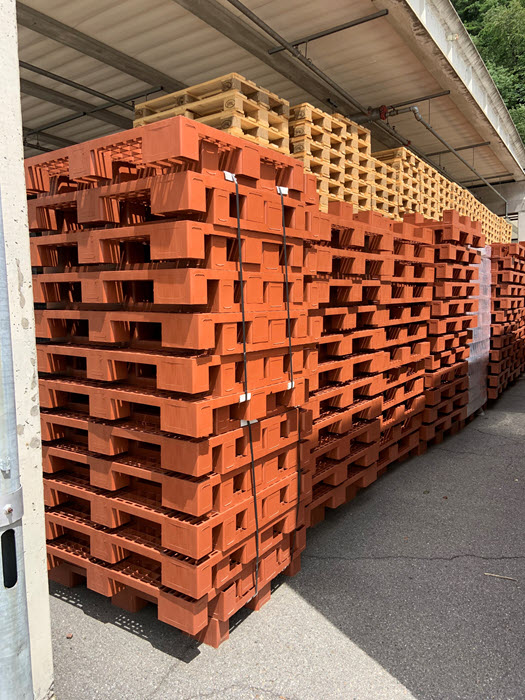 Reducing Plastic Waste in Manufacturing
Reducing plastic waste and increasing recycling is a priority for us. Around the world, our facilities implement projects to reduce plastic scrap from manufacturing, which represents roughly one third of our non-hazardous waste and is our largest waste stream. In 2020, our manufacturing sites in Valtellina (Grosotto and Sondalo), Italy, partnered with a waste company to convert scrap film into small plastic granules that are used as raw materials to produce plastic items, such as boxes and pallets. In 2021, we diverted 182 metric tons of plastic scrap for reuse through this initiative, of which 28 metric tons were used for production of plastic pallets for Valtellina (see photo).  
Environmental, Health, Safety and Sustainability (EHS&S)
Our EHS&S Policy supports our mission to save and sustain lives and outlines our commitment to consistent improvement in environmental, health, safety and sustainability performance as we create value for our stakeholders. Our EHS&S management system is based on Global EHS&S Requirements that establish the minimum standards all of our facilities must meet and maintain. These requirements guide our approach, applying ISO 14001 to systematically manage environmental aspects and ISO 45001 to manage employee health and safety hazards and risks. The EHS&S audit process helps to verify that the company's facilities have programs that satisfy regulatory requirements and meet our EHS&S objectives and goals. 
Throughout our integrated supply chain, we strive to use energy, water and raw materials efficiently, while reducing waste and greenhouse gas emissions. A key focus is to reduce the environmental impact of the products we design, manufacture and sell, thus cross-functional groups participate in Baxter's Product Sustainability Program to further embed product stewardship across the company. You can visit our latest Corporate Responsibility Report for more information.