Defining Moments from Simple Conversations
"I believe defining moments can come from big events, but if you listen closely they often come from simple conversations."
Interview with Laura Angelini, general manager of Baxter's global Renal Care business
Q: What is your role at Baxter? 
Laura: I lead the global Renal Care business, which includes the Marketing and R&D responsibilities for our portfolio. I'm pleased to manage a dedicated team on our journey to improve outcomes and the quality of life for renal patients.
Q: Can you recall a conversation with a healthcare provider that was defining to you as a business leader?
Laura: In a previous role, I had an opportunity to visit a surgeon in Sweden who developed a new procedure. He wanted to work with my company to improve the quality of life for women. He explained that he could only impact one patient at a time, but through my company we could help women worldwide. I then understood my mission in healthcare. This defining moment helps drive my decisions yet today, as my team works to transform renal care for patients around the world. 
Q: What are you most passionate about accomplishing at Baxter? 
Laura: Treatment of kidney disease has remained stagnant for decades. My team is passionate about driving improvements to today's care models for renal patients. I'm pleased to say we are at a convergence of new technology and big data that will help change this dynamic, and a growing trend by policy makers globally to improve care models. These changes will support more patients being able to manage their therapy at home, more personalized care due to digital health innovations and improved outcomes across the continuum of care.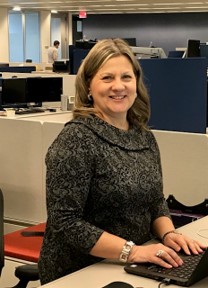 Q: What are the most important aspects of leading a diverse team on a mission to transform care? 
Laura: The prevalence of kidney disease affects diverse populations around the world. The diversity of gender, age and ethnicity on our global R&D and Marketing teams allows us to move faster and with a greater degree of collaboration in serving our customers' and patients' needs. Each voice on my team brings a unique perspective to our mission to save and sustain lives. 
Q: What advice do you have for women starting their careers? 
Laura: Passion and patience will be the cornerstone of your success, personally and professionally. Passion will help you drive focus, build expertise and create team collaboration. Patience will help maintain your determination to move forward, even when a misstep occurs because change is not linear. Last but not least, have fun and enjoy every moment. Each experience is precious and only occurs once in a lifetime. 
For More Information
Read about how Baxter is supporting patients on their renal care journey.