Seeding Successful Flexible Work Arrangements in STEM
Baxter supports workplace flexibility and provides a variety of options and resources to help employees successfully manage their work and personal lives. While workplace flexibility has become commonplace in office and other more traditional work environments, it's less often discussed and implemented in laboratories and other settings more common to STEM (Science, Technology, Engineering and Math) occupations. One expansive team of approximately 170 employees in Life Sciences and Operations within Baxter's CSO organization has found a way to make such flexibility work in what many may consider to be a non-traditional environment. Nearly 90 percent of this team, which spans a wide range of expertise, experience, ages and background, works some form of a flexible work arrangement since the program started several years ago.
Several members of the Life Sciences and Operations team recently shared their perspectives on implementing flexible work arrangements across the team. Below are insights from Halit Bander, PhD, Vice President of Life Sciences & Operations, Janis Chicchello, Sr. Director, Clinical Operations, and Carolyn Brooks, Director, Global CSO Business Operations, on how they have made flexible arrangements work for them personally, their team(s) and Baxter overall.
Q: In your opinion, do flexible work arrangements in STEM differ from other areas of the company or other industries? How so?
HALIT: My department is made up of about 15 different functions, clinicians, scientists, lab technicians, to statistician's data managers to operation people, and so our work is very hands-on and requires constant team interaction. However, we can still take advantage of a work-life balance just like anyone else. We make it work for all members of our team every day, and we continue to see increased job satisfaction because of it.
CAROLYN: As part of the business operations piece of clinical trials, flexibility in the workplace is something my group has been doing for years. Late night and early morning calls is just a typical part of my team's normal workday, so it's important as a manager that I recognize that and let my team adapt accordingly so they're not working crazy hours in a week just to be here during normal business hours as well.
JANIS: Although my team works synergistically, each team member is independent. I don't need to ask them to be here for important meetings, as they already know when it's essential for them to be physically present and when it's not. They are very appreciative of the flexible work time, which I think allows them to ultimately be more productive during the day and provides even greater efficiencies when covering an emergency or cross-country call that pops up at odd hours.
Q: What are the advantages of such a flexible approach?
CAROLYN: Attracting and retaining talent is always a high priority, and the ability to work remotely during the week is incredibly beneficial for all employees, not just working parents. For example, millennials, many of whom work in the city and have to commute to our office (in suburban Chicago), appreciate the flexibility to live in an urban environment and reduce their commuting burden. The managers on our team are fantastic in ensuring someone is always in the office, alternating days in which employees work from home and keeping track of their team's work so nothing gets missed.
JANIS: For younger folks especially, I offer flexible work arrangements right off the bat, and the reaction I often get is, "you really trust me," and they have a greater desire to do well because of that. One of the greatest benefits of working from home is often less distractions, and I see productivity increase because of that.
Q: What sort of culture change or adjustments occurred as flexible arrangements were implemented?
HALIT: It has taken a while for everyone to understand the culture shift we brought in by offering flexible work arrangements. Many used to believe that you had to "earn" the right to work from home based on your seniority. By implementing the opportunity to work on a schedule and location that best meets your needs, we created a new way of life and as such have retained and grown our staff.
At first, it wasn't just changing the views of managers, but also colleagues, as some still had the mindset that just because you showed up to the office from 8 am to 5 pm that you're doing better work than someone out of the office. At the end of the day, all our employees are adults and deserve to be treated as such, and I trust them to deliver on their work. Though most of our meetings are on the phone, employees are still required to show up to critical meetings. We still see a high level of commitment no matter what. It's an opportunity for employees to be their own leader and it makes it easier for us to identify and harness the skills we need.
When you do something like this at first, it's natural to be hesitant because you're venturing into something new. However, we've still managed to reach over 90 percent of our goals, so we clearly haven't lost any of our work ethic.
CAROLYN: I've been in the department for more than 20 years, and the conservative approach of requiring employees to be at their desk from 8 am to 5 pm was hard to step away from for many folks, but really all it led to was over exhaustion. As long as they deliver on their projects, I don't need to physically see them here all the time. In fact, I actually see a higher level and quality of output from my team when they work remotely. It has really brought an overall message of respect and trust to the team. It's cultivating soft skills and ownership of projects, and I love seeing that development.
Q: For years, many people only thought of workplace flexibility or "flex time" as applying to working mothers. Do you feel that is the case? How do you combat that stereotype among your team?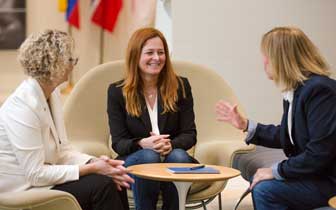 HALIT: The concept of a flexible workplace may have started with working mothers, our department at one point was 70% female, but it certainly has not stayed that way. For our team, we started on a case-by-case basis, and it was generally the women who came forward first worried they would be penalized or judged negatively for having to leave early to relieve the babysitter or because they wanted to be home for family dinner. It has since expanded to everyone, and we make clear that flexible work arrangements are an opportunity for each employee on our team.
JANIS: As someone who didn't have a family until much later in life, there was an expectation I work harder since I didn't have to care for young children. Our flexible work arrangement policy is divided fairly across the group with the understanding that everyone has a personal life. Each member of my team has a role that doesn't require them to be here physically every day of the week, so we've found a balance that works for us without losing that collaboration.
Q: How do you begin to have the conversation on flexible work arrangements? Do you find employees hesitant to take advantage of flexible workplace benefits, and if so, how do you encourage them?
HALIT: When we expanded from a case-by-case approach to expanding to the team in its entirety, we held a town hall style meeting for our department to establish our open policy. After that, people were much more comfortable approaching us to ask for flexible work arrangements. We keep the conversation open, helping employees comprehend that they will not be judged for asking the question. The majority of our team, about 90 percent overall, work a flexible arrangement.
CAROLYN: When new people come on board, we let those employees know right away that a flexible workplace is something we offer. We don't require decisions to be made right away, as it's a fluid opportunity that can alter as their life changes as well. Presenting a flexible work arrangement is undoubtedly a nice perk that our employees really appreciate, and we see that reflected in the quality of their work.
Q: What are the challenges of implementing flexible worktime among your employees?
HALIT: We're constantly adjusting and learning how to make our policies better for our employees.
When various team members work remotely two or three days a week, it can be an obstacle to integrate a new employee with the rest of our team. To combat this, we organized a speed networking event, putting the entire team in a room for two hours with a timekeeper and each person had two minutes to talk to the person across from them. A different question was initiated every two minutes; we brought snacks and kept the whole event very informal. It turned out to be wildly effective in allowing our employees to get to know one another.
JANIS: One drawback is that when you're sick and stay at home, it can often be confused with working at home. It's become harder to differentiate between the two and we make a strong effort to do so for the health and safety of our employees. Another challenge can be coordinating the schedule, ensuring there's always someone who is able to cover off on a project or be in the office if you are out, but I see it as an opportunity to build teamwork.