Baxter Lawyers Lend a Hand – and Counsel
To Make a Positive Impact in the Community
The legal profession has a strong foundation of service to others, and members of Baxter's legal department consistently live up to that commitment both within the workplace and outside in their communities. The pro bono service commitment runs strong within Baxter's legal department, that it has led to a standing pro bono committee dedicated to identifying and promoting volunteer and philanthropic initiatives that provide Baxter's in-house lawyers, as well as other employees, opportunities to share their skills and expertise with organizations and individuals that need them the most. During the course of the past year, the committee has enabled Baxter employees to engage in a variety of community service initiatives.
One example has been Baxter's participation in the Street Law program, where Baxter's legal department participates in a one-day workshop that offers students an opportunity to connect individually with lawyers to learn more about a career in law. Specific courses have included criminal law, constitutional law, and the legislative process, among others. Most recently, attorneys from Baxter's legal department engaged high school students on various aspects of the law at Lindblom Math & Science Academy in Chicago, and came away feeling personally enriched having worked with the next generation of innovators.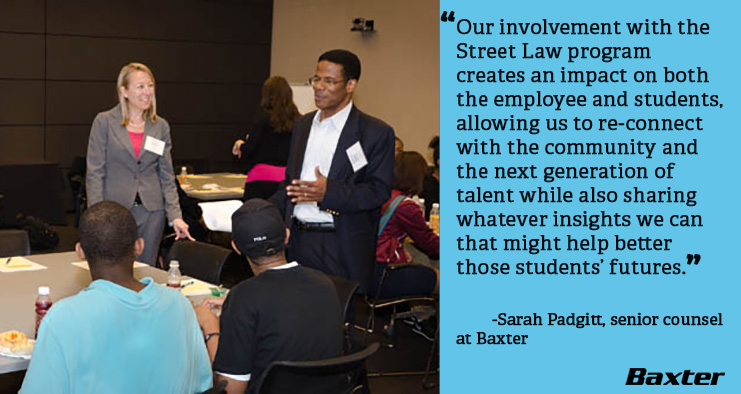 Several Baxter employees in the legal department recently shared their legal expertise as part of a volunteerism event at the Chicago Disability and Elder Law Center. Baxter's volunteer-team of attorneys visited a local senior center in Chicago and prepared powers of attorney and living wills for 17 low-income elderly residents, donating their time and talent to help make a difference in this local northwest side community.
We are fortunate to be in a position to support our communities, and members from across the team have done a great job serving a number of causes.

David Scharf, corporate vice president and general counsel at Baxter and head of the legal pro bono committee
One Baxter attorney, Faiyaz Hussain, senior counsel, is passionate about volunteering his time toward efforts that ensure a world where equality, liberty and justice are guaranteed for all – regardless of faith, race, gender, age or any other characteristic. As an immigrant to the U.S., Faiyaz has always felt blessed to have experienced firsthand the privileges guaranteed to all under the U.S. Constitution and, as such, feels compelled in protecting those privileges for future generations of Americans. He does this by dedicating his free time to an organization called Muslim Advocates – a national legal advocacy and educational organization that works to guarantee the constitutionally protected rights of all Americans. This has led to his recent recognition by the law firm of Barnes & Thornburg as part of its annual Trail Blazer Diversity Awards, which recognized his commitment to justice and civil advocacy.
In addition to sharing their expertise through national and local education and community networks, members of Baxter's legal team have also been instrumental in encouraging the participation of all Baxter employees in giving back to their community. In coordination with the Illinois Department of Children and Family Services (DCFS), the legal team launched a luggage drive at Baxter's headquarters in Deerfield, Ill., in support of kids who often have to move without a way to transport their belongings.
"Many times when children come into the system, they come with their few belongings busting out of torn plastic bags," Benny Kuriakose, area administrator, Cook North placement at DCFS. "Baxter has allowed each child to feel like someone cares about them, and we look forward to our continued events with their supportive staff."
Senior patent counsel Michael Cohen notes that as a legal team, pro bono work and volunteerism work is a commitment all Baxter employees take seriously, and through the pro bono committee in the legal department they can help other attorneys find opportunities that interest them. Michael dedicates his spare time to contributing to Lawyers for the Creative Arts, helping advocate for the rights of artists and ensuring their concepts and ideas are protected.
"We are fortunate to be in a position to support our communities," David Scharf, corporate vice president and general counsel at Baxter, and head of the legal pro bono committee, "and members from across the team have done a great job serving a number of causes."