Clinolipid 20% for Nutritional Care
Clinolipid 20% for Nutritional Care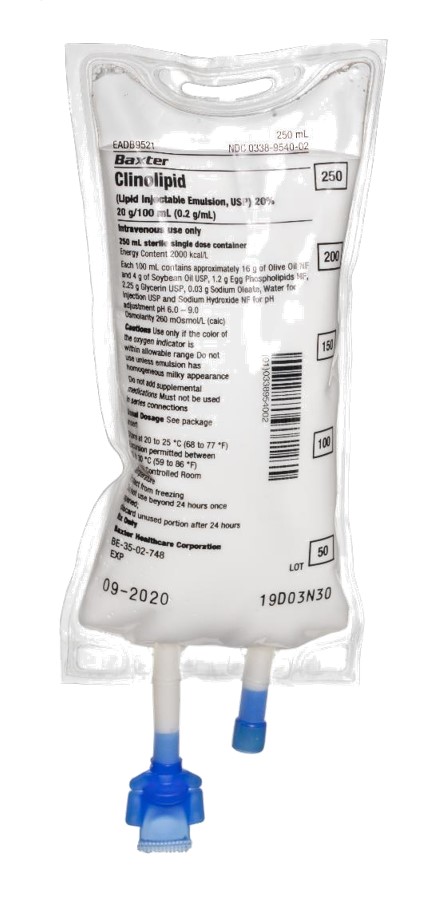 Clinolipid 20% is a proprietary 80% olive oil, 20% soybean oil lipid injectable emulsion that offers healthcare professionals a prescribing alternative to meet the diverse needs of adult patients requiring parenteral nutrition (PN).1,2
Clinolipid's (Lipid Injectable Emulsion, USP) 20% unique formulation enables physicians to minimize the use of soybean oil in their PN, while providing olive oil that is rich in Omega-9 fatty acids.2
The American Society of Parenteral and Enteral Nutrition (ASPEN) and the Society of Critical Care Medicine (SCCM) guidelines suggest withholding or limiting soybean oil-based injectable lipid emulsions (ILEs) during the first week of PN in critically ill patients to a maximum of 100g per week, which suggests alternative ILEs be considered for critically ill patients who are appropriate candidates.1 For physicians who choose to limit soybean based ILEs for their patients, Clinolipid is the alternative lipid with the lowest soybean-oil content available in the United States today.2, 3, 4, 5
Clinolipid enables physicians to:
Provide a dense source of energy and EFA
Deliver olive oil rich in Omega-9 fatty acids
Use soybean oil to help meet EFA requirements
Clinolipid utilizes Baxter's proprietary lipid blend, which has been used for more than 20 years outside the United States and dosed over 100M times.6
CLINOLIPID 20% Lipid Emulsion Composition
Clinolipid's largest component is olive oil, which is rich in Omega-9 oleic acid.2 Oleic acid is a monounsaturated fatty acid (MUFA) that is considered to be immune neutral.
Clinolipid is 64% oleic acid by composition and contains the most MUFA of any ILE available in the United States.2, 3, 4, 5
Important Safety Information for Clinolipid
Clinolipid 20% (Lipid Injectable Emulsion) for Intravenous Use Indication
Clinolipid injection is indicated in adults for providing a source of calories and essential fatty acids for parenteral nutrition when oral or enteral nutrition is not possible, insufficient, or contraindicated.
Limitations of Use
Clinolipid injection is not indicated for use in pediatric patients because there is insufficient data to demonstrate that Clinolipid injection provides sufficient amounts of essential fatty acids in this population.
The omega-3: omega-6 fatty acid ratio in Clinolipid injection has not been shown to improve clinical outcomes compared to other intravenous lipid emulsions.
Important Risk Information

The use of Clinolipid injection is contraindicated in patients with the following:
Known hypersensitivity to egg or soybean proteins, the lipid emulsion and/or excipients.
Severe hyperlipidemia or severe disorders of lipid metabolism
Stop infusion immediately and treat patient accordingly if signs or symptoms of a hypersensitivity or allergic reaction develop.
Monitor for signs and symptoms of fat overload, essential fatty acid deficiency (EFAD) and infections including laboratory test results (including leukocytosis and hyperglycemia) and frequent checks of the parenteral access device.
Carefully monitor severely undernourished patients and slowly increase their nutrient intakes, while avoiding overfeeding, to prevent refeeding complications.
Frequent clinical and laboratory determinations are necessary throughout treatment. Monitor fluid status closely in patients with pulmonary edema or heart failure.
Content of vitamin K may counteract anticoagulant activity.
Clinolipid injection contains no more than 25 mcg/L of aluminum. There is an increased aluminum toxicity risk in patients with impaired kidney function, including preterm infants.
Parenteral Nutrition Associated Liver Disease (PNALD) has been reported in patients who receive parenteral nutrition for extended periods of time, especially preterm infants. Monitor liver function tests. If patients develop liver test abnormalities consider discontinuation or dose reduction.
Reduce dose of Clinolipid injection and monitor serum triglyceride levels in patients with serum triglyceride concentrations above 400 mg/dL.
The most common (5%) adverse drug reactions reported during Clinolipid injection clinical trials were nausea and vomiting, hyperlipidemia, hyperglycemia, hypoproteinemia and abnormal liver function tests.