Baxter expands successful launch of AMIA with SHARESOURCE to include Canada

Canadian home dialysis patients to gain access to therapy with two-way connectivity with healthcare team

AMIA operator-friendly features designed so more patients can manage therapy at home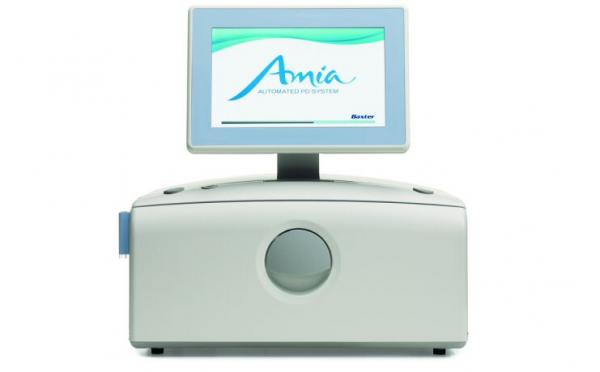 MISSISSAUGA, ONTARIO. - June 29, 2016
Baxter International Inc. (NYSE: BAX) is expanding the introduction of its AMIA Automated Peritoneal Dialysis (APD) System with the SHARESOURCE Connectivity Platform to Canada with the announcement that Health Canada recently approved the system. The AMIA APD and SHARESOURCE system is the first APD device cleared in the United States and Canada to include patient-centric features such as voice guidance, a touchscreen control panel and two-way telemedicine capabilities for remote patient management.
Approximately one in 10 Canadians have chronic kidney disease,1 and about 24,000 of those individuals have end-stage renal disease (ESRD) and are on dialysis therapy.2 With an annual ESRD growth rate of 2.5 percent in Canada,2 there is a growing need for access to renal therapy innovations that meet patients' clinical and lifestyle needs. It is important for these renal patients to have access to therapy options that support different clinical and lifestyle needs, including working with their physicians to determine whether therapy can be performed at home.
"As a leader in home dialysis, Baxter is committed to understanding patients' and clinicians' needs, so we can provide innovative therapy options that are designed to support access to care where and when it's needed," said Stephen Thompson, general manager, region head for Baxter Canada. "Baxter's AMIA with SHARESOURCE system is uniquely designed to help more patients self-administer home PD therapy and allow healthcare providers the ability to remotely manage their patients' care."
Baxter's SHARESOURCE connectivity platform is incorporated into AMIA and allows healthcare providers to receive dialysis-related treatment data through store-and-forward technology. This information can then be used by designated providers to securely and remotely adjust their patients' home device settings from the clinic. The AMIA system also features animated graphics and automated step-by-step instructions with voice guidance, which were designed to address the efficiency of home PD therapy and administration for ESRD patients.
People living with ESRD require dialysis treatment or a kidney transplant to stay alive. PD therapy is typically managed by patients in their home, at a time of day that is convenient for them. It works by cleaning the blood of toxins and removing extra fluid through the body's peritoneal cavity.
Baxter plans to initiate a pilot launch of the AMIA APD system with SHARESOURCE in Canada in late 2016. The AMIA and SHARESOURCE system launched in the United States in late 2015, after receiving 510(k) clearance from the United States Food and Drug Administration (FDA). To date, the U.S. launch of the system provided an opportunity for approximately 400 ESRD patients to initiate therapy with the unique technology, which includes about 13,000 treatments with the SHARESOURCE Connectivity Platform for remote patient management.
For prescription only. For safe and proper use of the devices mentioned herein, refer to the complete instructions in the Operator's Manual.
About Baxter Canada
For nearly 80 years, Baxter has been making a meaningful difference for healthcare providers and patients in Canada. Baxter Corporation and its nearly 1,000 employees are located primarily in Ontario at the Head Office, CIVA Admixing and Technical Services Centres in Mississauga, and in Alliston – where Baxter operates Canada's only large scale manufacturing plant producing life-sustaining intravenous and dialysis solutions. These and other essential Baxter products, including anesthesia, biosurgery, dialysis and ICU equipment, infusion pumps, parenteral nutrition, and ready-to-administer intravenous admixtures play a vital role in the care of patients across Canada.
About Baxter
Baxter provides a broad portfolio of essential renal and hospital products, including home, acute and in-center dialysis; sterile IV solutions; infusion systems and devices; parenteral nutrition; biosurgery products and anesthetics; and pharmacy automation, software and services. The company's global footprint and the critical nature of its products and services play a key role in expanding access to healthcare in emerging and developed countries. Baxter's employees worldwide are building upon the company's rich heritage of medical breakthroughs to advance the next generation of healthcare innovations that enable patient care.
Forward-Looking Statements
This release includes forward-looking statements concerning Baxter's AMIA APD systems and the SHARESOURCE remote connectivity platform. The statements are based on assumptions about many important factors, including the following, which could cause actual results to differ materially from those in the forward-looking statements: satisfaction of regulatory and other requirements; actions of regulatory bodies and other governmental authorities; product quality, manufacturing or supply issues; patient safety issues; changes in law and regulations; breaches or failures of the company's information technology systems; and other risks identified in Baxter's most recent filing on Form 10-K and other SEC filings, all of which are available on Baxter's website. Baxter does not undertake to update its forward-looking statements.
Baxter, Amia and Sharesource are trademarks of Baxter International Inc.